Breaking News
ROVER AND GARFIELD CAN GET ALLERGIES TOO!!!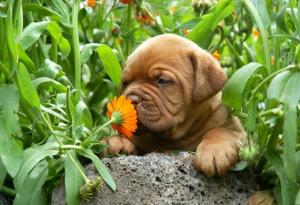 WHAT ARE DOGS AND CATS ALLERGIC TO?
No one enjoys allergies; least of all the person who is suffering from them. But did you know that your pets suffer from allergies too? In fact, dogs and cats are affected by many of the same allergens that affect people.
DUST MITES
It should come as no surprise that the #1 cause of allergy and asthma in people affects our pets, too. Feeding off the shed skin of humans and dander of pets, dust mites are very small in size. Despite their size, dust mites can wreck havoc on your dog or cat's immune system causing an allergic reaction that often displays as atopic dermatitis.
POLLENS
Dogs and cats can be allergic to all types of pollens - pollens from trees, weeds, plants or grasses. You can limit your pet's exposure to the pollens in your area by keeping them indoors during peak seasons, when there are reports of a high pollen count, which tends to be during the fall or spring.
MOLD
Molds are somewhat regional, but if they are in your area, watch out! Some molds can cause mild allergic reactions in dogs and cats, while others can be deadly for your pet. Mold grows wherever and whenever there is moisture, so keep humidity in your home low, fix any leaks, and pay attention if your pet frequents dark and/or damp areas - either indoors or outdoors.
FLEAS
Flea bite hypersensitivity and flea allergic dermatitis is the most common skin disease in pets. Frequent and severe itching and scratching. hair loss, and scabs are telltale signs of flea allergies in pets.
FOOD
It may take months or years before your dog develops an allergic response to a particular food. However, once he's allergic, he will almost always have a negative reaction to that food. Allergic reactions are most commonly associated with protein sources - usually the meat in your dog's food. You may notice some of the following signs:
Vomiting or diarrhea
Flatulence
Frequent scratching or hair loss
Red, inflamed skin
Chronic ear problems
Poor growth in young dogs
Coughing, wheezing and sneezing