Breaking News
INDOOR CATS NEED THE VET, TOO!!!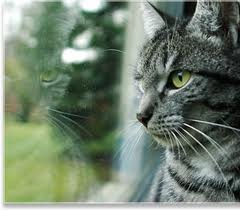 Did you know that your cat ages 7 years every year?
We regularly have owners bringing in indoor cats only when obvious, advanced illness is present. In many cases, they have not seen a veterinarian for many years. When asked why they had not brought the pet in sooner, they replied that they are
"indoor only"
cats and always seemed fine. However, there are some things that can happen to cats even if they are kept indoors for their entire lives. Cats can develop metabolic problems (diabetes, kidney diseases, and thyroid problems). Cancer, dental disease. Heart disease, or intestinal problems. We love our cats because they are independent and stoic. But, unfortunately these character traits make it difficult to know when they are ill. Cats are very good at hiding illnesses and pain. Many will only show weakness after an illness has been festering for a long period of time.
YOUR FURRY COMPANIONS CANNOT BRING THEMSELVES TO OUR DOORS. REPAY THEIR DEVOTION TO YOU BY KEEPING THEM AS HEALTHY AS POSSIBLE.