Breaking News
COLD LASER THERAPY: GETTING YOUR COMPANION ANIMAL MOVING AGAIN!!!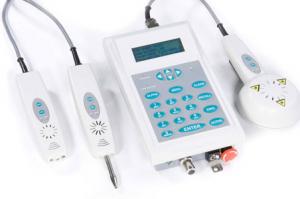 Injured canines, felines and exotic companion animals can all suffer from the same musculoskeletal and wound
injuries that humans do. But unlike us, companions lack the vocabulary to express their discomfort and have
learned to endure a great amount of pain in the process.
The Theralase superpulsed laser provides a safe and effective way to heal companion animals back to full
vigorous health. The non-heating, non-invasive cold laser accelerates an animals natural healing processes
without any side-effects or discomfort. Depending on the severity of the injury, your patient could be back to
full activity within a few treatments.
COLD LASER THERAPY:
1. Decrease / eliminate pain
2. Reduces inflammation
3. Promote new blood vessels and tissue growth
4. Promote nerve axon growth
5. Faster wound healing and closure
6. Non-Invasive / No Side Effects
7. Extremely Safe / Drug Free
8. Highly Effective for Patient (90% efficacy rates)
9. Alternative to other treatments; such as Analgesics, NSAID's,
Cox-2 Inhibitors, TENS, Ultrasound, Inferential
We are proud to offer cold laser therapy treatments right here at Birch-Dan Animal Hospital!!! FOR CLIENTS/PATIENTS INTERESTED IN THERAPEUTIC LASER TREATMENTS WE ARE OFFERING ONE FREE COMPLIMENTARY TREATMENT WITH AN EXAM. PLEASE CALL OUR OFFICE AT 416-266-1377 TODAY TO BOOK YOUR APPOINTMET.